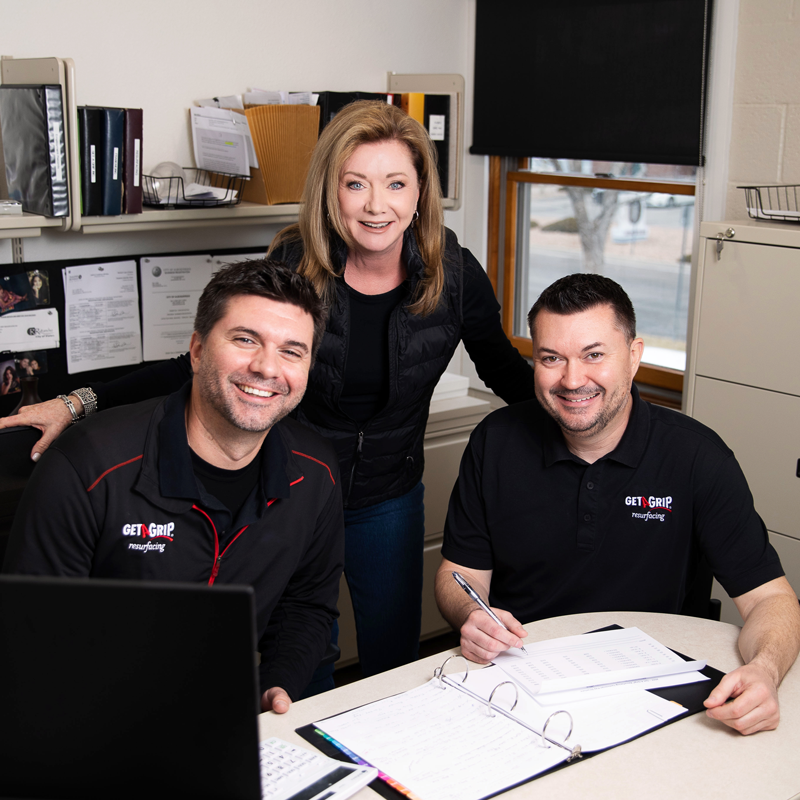 Albuquerque Team
In 1998, Ryan Dillard left Dallas in a red Jeep, carrying only a few belongings and a desire to take a break from his studies at Southern Methodist University. His plan? To visit family in the mountains of New Mexico and to think about the direction of his life. The furthest thing from his mind was starting a family business that would blaze a trail in the resurfacing industry.
During Ryan's visit, he discovered how someone could restore worn bathtubs and countertops―without removal. He also saw the potential to reach out to a larger clientele. He called his parents, Cub and Sharon Dillard, and told them they had to come to Albuquerque to expand this unique business opportunity, Get A Grip. "Everything seemed to fall into place," says Sharon. "I've always believed when it's right, it's easy!"
Today, Get A Grip leads the resurfacing industry in over 30 locations across the country. The company remains a true family business.
Get A Grip continues to revolutionize the resurfacing industry with proven products and techniques, making us one of the most sought-after companies today. Click on the logos below to see the latest breaking news for Get A Grip. Check back often—we have a lot to talk about!
READY TO JOIN THE GET A GRIP ALBUQUERQUE TEAM?
Apply Now
Hear from our Customers
"Vince, the professional assigned to my job, did an incredible job. The tub looks better than it ever did! It took two different applications of materials/polishing, etc., but the end result was incredible for, in my opinion, a reasonable price. They are very busy, and it took a while to get on their calendar, but the wait was worth it. Take it from this professor, A+ all around."

Georgiann D.

YELP
Leave Us a Review
Our team works very hard to provide the best quality products and service.
If you are satisfied with your resurfacing project, please leave us a review by clicking on one of the following review platforms: