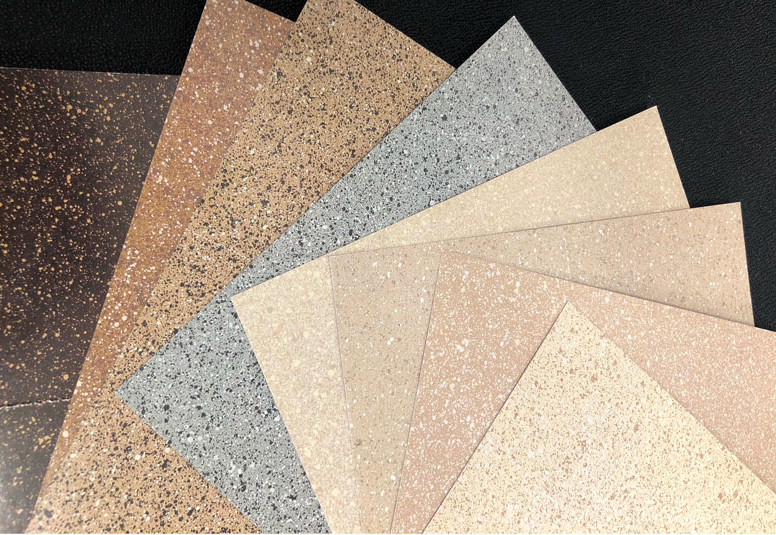 Countertop Resurfacing
Update your kitchen and bathroom for less — Get A Grip.
Do you have dated or damaged countertops? Or are you just looking to update your surfaces while sticking to a budget? Either way, Get A Grip can help! Homeowners and commercial property managers alike have found the solution to beautiful, like-new countertops at a fraction of the cost to replace. Our unrivaled resurfacing process brings old, damaged surfaces back to life. Get A Grip routinely repairs and resurfaces tile, laminate, and even cultured marble!
Get A FREE Estimate
How It Works
Countertop resurfacing is the process of applying a new coating on top of your existing countertops. Get A Grip is a cost-effective way to update, enhance, and beautify them without the expense of replacement.
Our exclusive countertop resurfacing process typically is a one-day process, depending on the condition and size of your countertops. Your surfaces need a full 24 hours to cure before being put back into use.
Get A Grip is the expert in repairing nicks, scratches, chips, and cracks. We routinely repair and resurface tile, laminate, cultured marble, and more to like-new condition, extending the life of your surfaces and saving you hundreds!
Care & Warranty
Clean your new Get A Grip surface using a soft sponge or cotton cloth with our recommended cleaners. Please follow our guidelines for cleaning and maintaining your new surface(s).
Get A Grip stands behind our proven products and techniques. If our materials or workmanship prove faulty during the warranty period, we will correct it at no additional cost. We cover flaking, peeling, and cracking.
Options
Not finding a color you like? We can create custom colors — just ask!
Basic Eurostone®
Our Basic Color Collection lets you update your countertops without breaking the bank.
Standard Eurostone®
Our Standard Color Collection is versatile enough to complement any décor with its rich colors.
Premium Eurostone®
Our Premium Color Collection adds drama and interest to your kitchen and bathroom with sophisticated, contemporary colors found nowhere else.
Get A Metallic®
Our Get A Metallic line utilizes radiant metal flecks to create spectacular, handcrafted results for your countertops.
Please note that while we make every effort to accurately represent colors on our website, the colors may appear slightly different on your screen. For a true color match, we recommend requesting an in-home estimate.
Before

After

Before

After

Before

After

Before

After
Why Resurface?
Save Money
The high cost of labor, materials, and time associated with remodeling makes resurfacing an attractive alternative. Typically, resurfacing costs 1/3 the price of conventional remodeling.
24-Hour Turnaround
Our exclusive resurfacing process typically is a one-day process, depending on the condition and size of your surface. Your surface will be ready to use 24 hours after the new coating is applied.
FAQs
Q.
What exactly is resurfacing?
A.
Resurfacing is the process of applying a new coating to countertops, tubs, showers, tile, and cabinets. As an alternative to conventional remodeling, it extends the life of the surface by many years.
Q.
How long does it take to resurface my countertop?
A.
It typically takes four to six hours to resurface most items in your house. For larger kitchens or multiple bathrooms, the process might take more than one day. Because our coating takes 24 hours to cure, we recommend resurfacing one bathroom per day.
Q.
How long do I need to wait before I use my countertop?
A.
Your surface will be ready to use 24 hours after the new surface is applied. Be sure to follow our Care & Maintenance recommendations.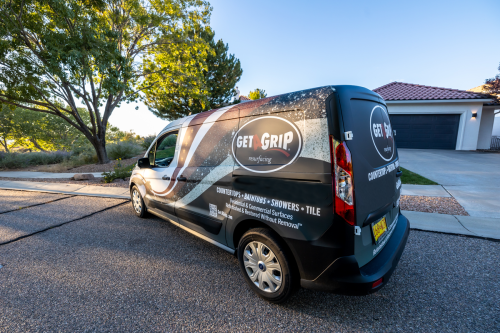 GET A GRIP
Request a FREE in-home estimate today!
Transform your home with ease! Schedule a free in-home estimate and get ready to experience a brand new look. From color options to the final reveal, our expert team will guide you through every step of the process. Don't wait any longer — book now and start enjoying your new resurfacing in no time!
Get Started Now