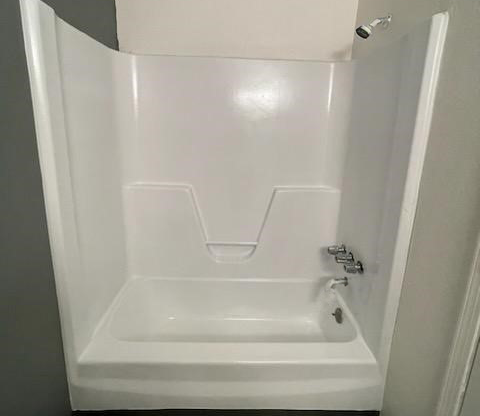 Bathtub & Shower Resurfacing
Update your bathroom for less — Get A Grip.
Looking to update your bathtub or shower? Get A Grip® offers cost-effective bathtub and shower resurfacing services that can restore your existing tub's surface. Our on-site, spray-on process means no tub removal, no demolition, and no plumbing complications. With a curing time of just 24 hours, you can avoid the mess and inconvenience of a full-scale remodeling project.
Get A FREE Estimate
How It Works
At Get A Grip, we use specially designed products for each specific surface, whether it's porcelain, fiberglass, Vikrell® or cast iron. Our coatings adhere firmly and have excellent color retention and high-gloss. As a certified Kohler© Authorized Service Representative, our partnerships with both Kohler© and American Standard™ let us carry the most popular colors just for you.
In addition to our tub and shower resurfacing services, we offer revolutionary fiberglass repair systems that can permanently eliminate weak tub and shower bottoms while providing a slip-resistant surface. Our services also extend to repairing and restoring cracks, chips, and dents in porcelain, cast iron, fiberglass, and Vikrell® surfaces. Contact us to learn more about how we can restore your bathtub!
Care & Warranty
Clean your new Get A Grip® surface using a soft sponge or cotton cloth with our recommended cleaners. Please follow our guidelines for cleaning and maintaining your new surface(s).
Get A Grip® stands behind our proven products and techniques. If our materials or workmanship prove faulty during the warranty period, we will correct it at no additional cost. We cover flaking, peeling, and cracking.
Options
Get A Grip's partnership with Kohler® and American Standard™ ensures that we always have their most common colors in stock. Check out the list below to see if we have the color you need for your bathtub and shower resurfacing project.
Before

After

Before

After

Before

After
Why Resurface?
Save Money
The high cost of labor, materials, and time associated with remodeling makes resurfacing an attractive alternative. Typically, resurfacing costs 1/3 the price of conventional remodeling.
24-Hour Turnaround
Our exclusive resurfacing process typically is a one-day process, depending on the condition and size of your surface. Your surface will be ready to use 24 hours after the new coating is applied.
FAQs
Q.
What exactly is resurfacing?
A.
Resurfacing is the process of applying a new coating to countertops, tubs, showers, tile, and cabinets. As an alternative to conventional remodeling, it extends the life of the surface by many years.
Q.
How long does it take to resurface my bathtub or shower?
A.
It typically takes four to six hours to resurface most items in your house. For larger kitchens or multiple bathrooms, the process might take more than one day. Because our coating takes 24 hours to cure, we recommend resurfacing one bathroom per day.
Q.
How long do I need to wait before I use my bathtub or shower?
A.
Your surface will be ready to use 24 hours after the new coating is applied. Be sure to follow our Care & Maintenance recommendations.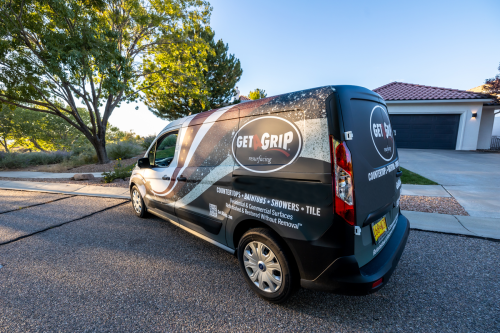 GET A GRIP
Request a FREE in-home estimate today!
Transform your home with ease! Schedule a free in-home estimate and get ready to experience a brand new look. From color options to the final reveal, our expert team will guide you through every step of the process. Don't wait any longer — book now and start enjoying your new resurfacing in no time!
Get Started Now