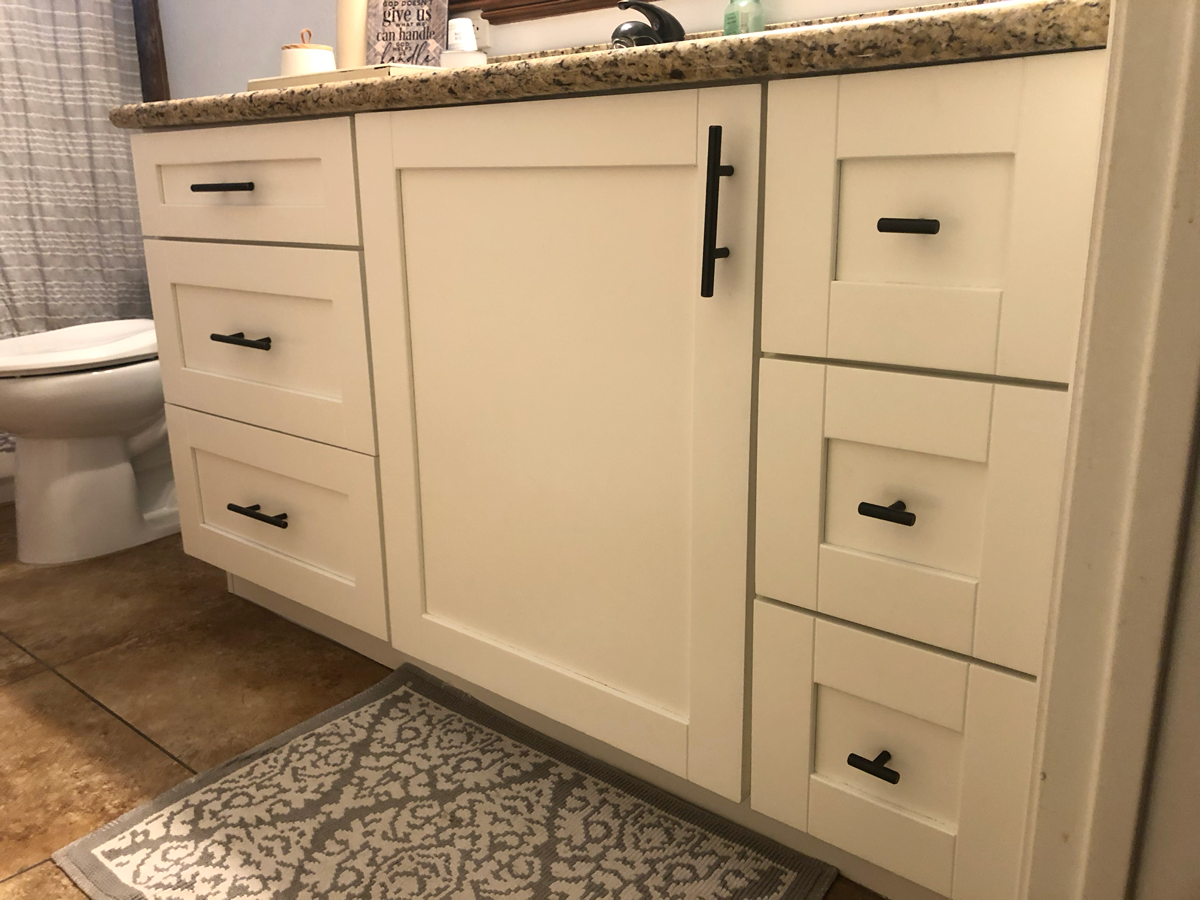 Cabinet Resurfacing
Update your kitchen and bathroom for less — Get A Grip.
Looking for an affordable and smart way to update your home's kitchen and bathroom cabinets? Look no further than Get A Grip! Our cabinet resurfacing services are one of the most common home upgrades and an ideal way to quickly update your living spaces.
At Get A Grip, we offer cabinet resurfacing services that can give your existing kitchen or bathroom cabinets a high-end designer look in just one day! Don't settle for outdated or worn cabinets. Contact us today to learn more about our cabinet resurfacing services and transform your living spaces with a fresh new look.
Get A FREE Estimate
How It Works
Cabinet resurfacing involves applying a new coating onto the existing cabinet surfaces. Whether you have wood, laminate, or metal cabinets, we can help! If your cabinets are structurally sound, resurfacing with Get A Grip is a cost-effective way to update them without the expense and hassle of replacement.
Our products are specially designed for each cabinet surface, providing unmatched durability and ease of cleaning. Our Grip-Cote™ coating provides superior adhesion to all substrates, ensuring a long-lasting finish. With endless color selections, you can easily match any décor.
So why replace your cabinets when you can resurface them with Get A Grip? Contact us today for a free in-home estimate and see the dramatic difference cabinet resurfacing can make!
Care & Warranty
Clean your new Get A Grip surface using a soft sponge or cotton cloth with our recommended cleaners. Please follow our guidelines for cleaning and maintaining your new surface(s).
Get A Grip stands behind our proven products and techniques. If our materials or workmanship prove faulty during the warranty period, we will correct it at no additional cost. We cover flaking, peeling, and cracking.
Options
Transform your kitchen or bathroom cabinets into a personalized masterpiece with Get A Grip's cabinet resurfacing options. Our stock colors provide a wide range of possibilities, but we can match any color you desire with our specially formulated coating. Plus, our colors cure quickly, last longer than traditional paint, and make cleaning a breeze! With Get A Grip, you can give your cabinets a new look that will last for years to come.
Before

After

Before

After
Why Resurface?
Save Money
The high cost of labor, materials, and time associated with remodeling makes resurfacing an attractive alternative. Typically, resurfacing costs 1/3 the price of conventional remodeling.
24-Hour Turnaround
Our exclusive resurfacing process typically is a one-day process, depending on the condition and size of your surface. Your surface will be ready to use 24 hours after the new coating is applied.
FAQs
Q.
What exactly is resurfacing?
A.
Resurfacing is the process of applying a new coating to countertops, tubs, showers, tile, and cabinets. As an alternative to conventional remodeling, it extends the life of the surface by many years.
Q.
How long does it take to resurface my cabinets?
A.
It typically takes four to six hours to resurface most items in your house. For larger kitchens or multiple bathrooms, the process might take more than one day. Because our coating takes 24 hours to cure, we recommend resurfacing one bathroom per day.
Q.
How long do I need to wait before I use my countertop?
A.
Your surface will be ready to use 24 hours after the new surface is applied. Be sure to follow our Care & Maintenance recommendations.
Q.
How do I prepare my cabinets for resurfacing?
A.
Please remove all items from the work area (i.e., clocks, hanging plants, decorative items, microwaves, coffee makers, shower curtains, bath rugs, etc.). Don't forget about any items on top of your cabinets! Our technicians will not touch any personal items, and if your surfaces are not clear, we will ask you to either remove your items or reschedule your work.
Make sure to disconnect any water or gas lines from your refrigerator and/or oven. Please move these items at least three feet from your countertops. If your refrigerator and/or stove cannot be moved, we will not be able to resurface the end caps on your countertops.
Q.
What if I accidentally damage the cabinets after resurfacing?
A.
If part of your cabinet is accidentally damaged, we can do a "spot repair" on just that section. This keeps you from needing to replace the entire cabinet, saving you money.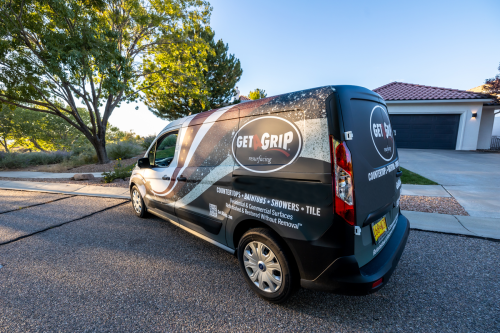 GET A GRIP
Request a FREE in-home estimate today!
Transform your home with ease! Schedule a free in-home estimate and get ready to experience a brand new look. From color options to the final reveal, our expert team will guide you through every step of the process. Don't wait any longer — book now and start enjoying your new resurfacing in no time!
Get Started Now